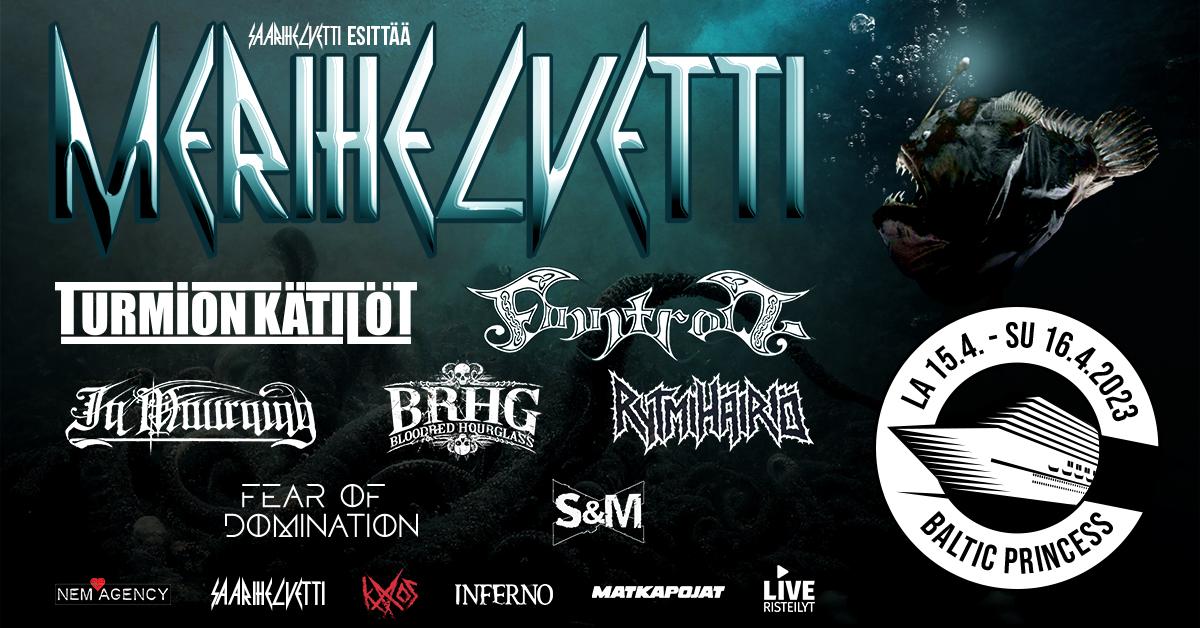 More artists annouced for Finland's biggest metal cruise spectacle!
24/02/2023
MeriHelvetti, the unidentical twin to SaariHelvetti will hit the Baltic Sea on Saturday 15th - Sunday 16th of April 2023. The festival has had a small lineup change, announced a large number of new artists alongside the festival schedule.
Netta Skog, Freak Kitchen's Mattias IA Eklundh's guitar clinic, Finntroll's Heikki Saari's drum clinic, Magician & comedian Risto Leppänen, trubadour Matti Oksa and a bit of heavy metal karaoke.
Betraying the Martyrs have had to cancel their performance at the festival, however Swedish melodic death metallists In Mourning will fill in for the French.
SCHEDULE & LINEUP:
OUTBOUND SCHEDULE:
SaariHelvetti Arena (Starlight)
20:30 Rytmihäiriö
22:00 Finntroll
23:30 Bloodred Hourglass
01:15 Turmion Kätilöt
02:15 S&M dj's
Dark River Festival Stage (Sea Pub)
19:00 Trubadour Matti Oksa
22:00 TBC
23:15 Netta Skog
00:00 - 03:00 Heavy karaoke
Iskelmä Baari
20:00 Heikki Saari drum clinic (Finntroll)
21:00 Meet & Greet sessio
22:00 Mattias IA Eklundh (SWE) guitar clinic [Freak Kitchen]
23:30 Meet & Greet session
Klubi:
00:00 - 04:30 Disco
INBOUND SCHEDULE:
SaariHelvetti Arena (Starlight)
12:30 Magician comedian Risto Leppänen
13:30 Fear of Domination
14:45 In Mourning (SWE)
Dark River Stage (Sea Pubi)
09:00 Trubadour Matti Oksa
12:30 - 15:00 Heavy karaoke
Iskelmä Baari
12:00 Mattias IA Eklundh (SWE) guitar clinic [Freak Kitchen]
14:00 Meet & Greet session