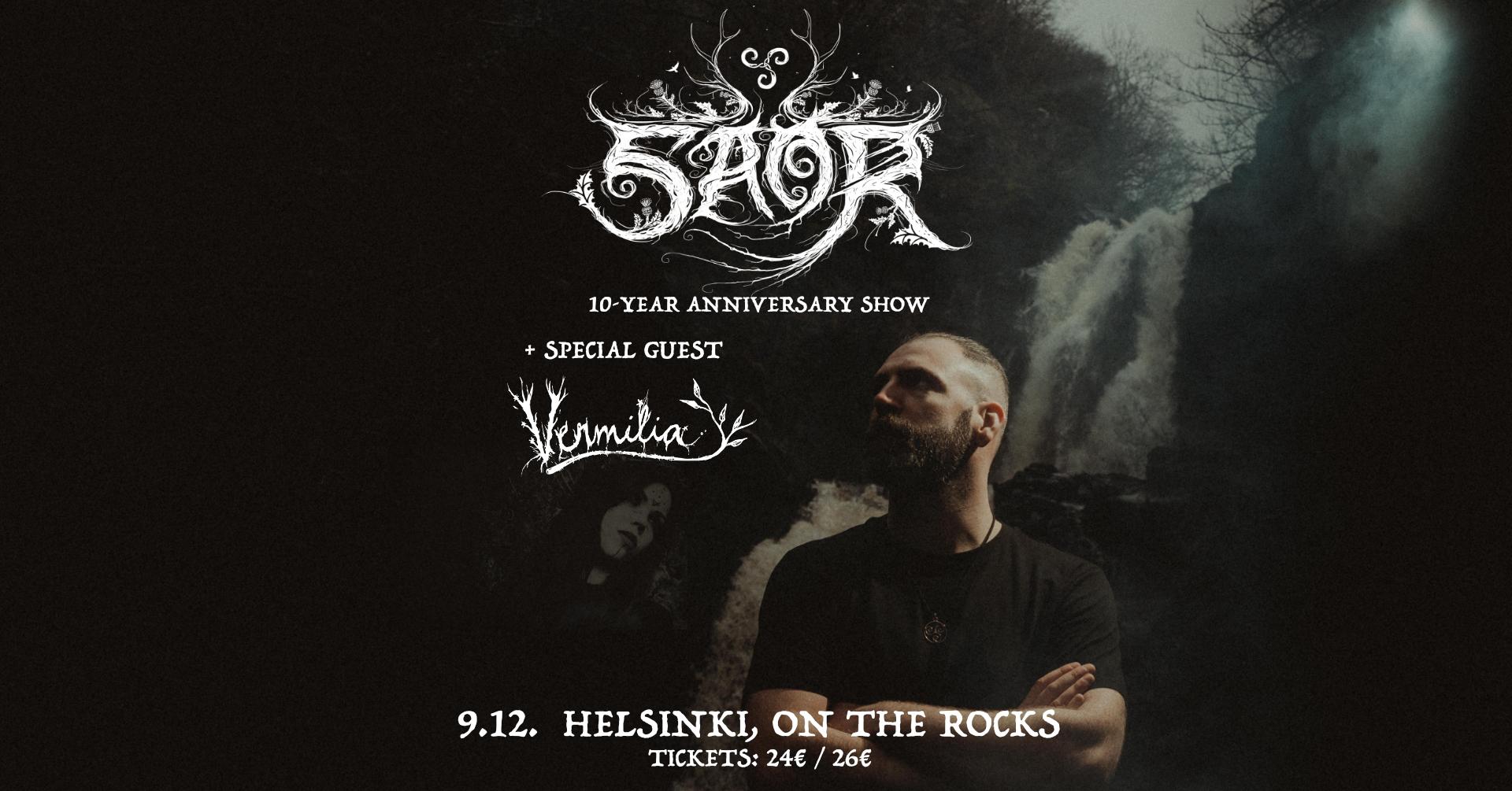 SAOR arrives to Helsinki with a special 10-year anniversary show!
03/10/2023
Scotland's own SAOR, a one-man project led by the talented Andy Marshall, is poised to unleash the Celtic fury upon Helsinki as they embark on a monumental journey to celebrate their 10-year anniversary. The special show arrives to Helsinki on Saturday 9th of December!
The show will be joined by a special guest Vermilia! Vermilia's melancholic and black metal fused with shamanic drums is truly a unique experience.
Sat 9.12.2023 / Helsinki, On The Rocks
SAOR / 10-year anniversary show
+ Special Guest: Vermilia
Facebook event: https://www.facebook.com/events/1020862952489285

Tickets: https://www.tiketti.fi/saor-sco-vermilia-on-the-rocks-helsinki-lippuja/94200
Adding to the excitement, Saor will be gracing the stage with a brand new live line-up, featuring the incredibly talented Ella Zlotos, who will be enchanting audiences with her bagpipes, tin whistles, and haunting female vocals.
Prepare to be transported as Andy crafts a unique setlist for this special event, delving deep into the roots of the project. He will be revisiting the material from his first four albums, taking fans on a mesmerizing journey through the evolution of his sound. This live show promises an immersive experience like no other, with atmospheric arrangements, powerful melodies, and a captivating stage presence that transports the audience on an emotional journey through Scotland's ancient glens and the haunting echoes of its storied past.
SAOR's music transcends the boundaries of the traditional metal genre, taking listeners on an emotional odyssey through the landscapes and historic tales of their homeland. Andy's ability to seamlessly blend elements of folk, black metal, and atmospheric soundscapes speaks to the universal appeal of his music. As he weaves the threads of Scotland's past into the tapestry of modern metal, Saor reminds us that the spirit of a land can be captured through the language of music.
Witness the historic celebration of SAOR's music and the unyielding spirit of Scottish metal. Ensure your place in this epic celebration by securing your tickets now and mark your calendars for December 9th, 2023, at On The Rocks in Helsinki.